Photo courtesy of Fight League Atlantic
By Andy Cotterill
Gone are the days when a fighter of one discipline like boxing or wrestling would decide to try this new thing called mixed martial arts (MMA) to see how their skills matched up with those of another.
Those types of fighters still exist of course, but now, there is a also new breed of athlete who started training mixed martial arts right from the beginning.
Luc de Ste Croix is one of them.
"I just took an interest in MMA right away right away when I saw it on TV." Ste Croix told MM-eh earlier this week. "I was naturally attracted to it and it just kind of mesmerized me, so I jumped in a gym with the intentions of fighting in a cage one day, and so far so good."
So far so good indeed.
The 24-year-old is currently 4-0 in amateur competition, and hopes to boost that to 5-0 when he takes on AJ Market, another undefeated prospect from Alberta at Fight League Atlantic 9 in Windsor, Nova Scotia.
Their bout will determine the FLA Amateur Lightweight Champion.
Whenever you talk to any fighter leading up to a fight they'll invariably say that they're in the best shape of their life and that they're confident that they have what it takes to win. De Ste Croix is no different in that regard, but he thinks that there are a few other things in his back pocket that will contribute to victory on Saturday.
To start with, his job outside of fighting is working 8 hours-a-day as an apprentice bricklayer, which he says that he refers to as George Foreman training.
"I'm lifting buckets of mortar all day. I'm lifting bricks. I'm slinging mud around all day. I get a eight hour cardio and strength and conditioning workout, and then I go to the gym."
He feels that this relentless heavy work is a great tradeoff for the pure physical strength and endurance it gives him.
His second back pocket item is the new gym where he started training on January 1st of this year — Tower 1 MMA under head coach Gavin Tucker, who is a fighter himself under the UFC banner.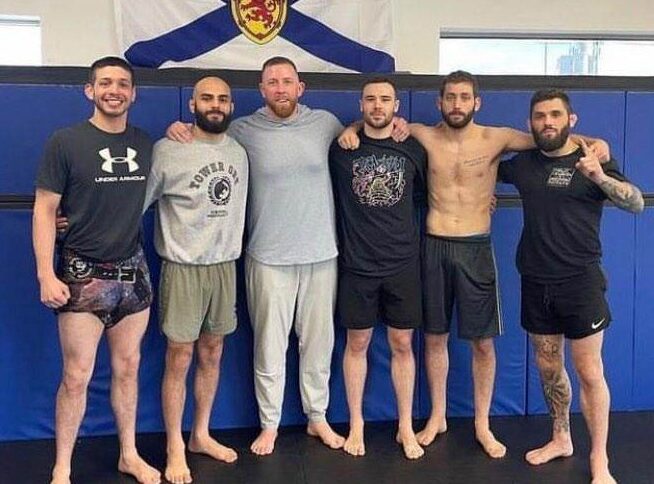 "Having Gavin as a head coach is all you could ask for in a head coach really." de Ste Croix said.
"He's a head coach that is going to train with you," he continued, "and just training with a UFC fighter, seeing how high of a level he is and then getting reps and rounds in with him. He's gonna do everything he can in preparation to to make his fighter successful, and that's definitely felt throughout the gym."
But on fight night the coaches have to be on the outside when the fight starts, and de Ste Croix will be the one who has to deal with Market, who had both of his wins come from a traingle choke.
"He's gonna be really tough fight." de Ste Croix said.
"But I feel like I've been at this longer than him I've been working harder for longer than him. I think the work has been done five years ago, four years ago, three years ago, and I feel like I'm more prepared and just a better fighter at the end of the day, a better mixed martial artist."
On Saturday we'll see if those words ring true, but one other thing he said most certainly will.
"Evolve or die," he said, "grow or die. That's how you get better."