Photo by Andy Cotterill
By Andy Cotterill
Know the enemy and know yourself in a hundred battles you will never be in peril. Sun Tzu
There are a handful of reasons why Huntsville, Ontario's Kyle "The Monster" Nelson (13-4 MMA, 3-1 UFC) feels really good about his matchup with Jai Herbert (11-4 MMA, 3-1 UFC) this Saturday night at UFC Fight Night: Blaydes vs. Aspinall in London, England.
For starters he has had the luxury of a full fight camp instead of a short notice bout that seemed to happen to him with frequency in the past.
"The majority of my fights I've kind of taken on short notice." He told MM-eh after one of his last hard training sessions before flying out to the U.K.
"When I was fighting at 145, it wasn't the best case scenario for me going from 185 down to 145. If I had eight weeks I could do it at a nice slow pace and get adapted and stuff like that. But like my last fight with Billy Quarantillo was like three weeks, so it's just a super crash diet trying to get down to weight. So really, I think that's kind of been the setback."
The keen-eyed amongst you noted that Nelson said "when" he was fighting at 145.
This match will feature his move up a weight class to Lightweight, and he thinks that having 10 less pounds to lose in addition to the full fight camp will be just what his body needs for optimal performance.
"With crash dieting I'll get in the cage and I'll have like three or four minutes where I get to showcase my skill set, and those first three or four minutes always go great. I feel like all my opponents that I've faced so far in the UFC, skill wise I have pretty much had them not only standing but on the ground. It just wasn't until we got into the second round when the weight cuts started catching up with me that we'd see my opponents start to pull ahead or get a little bit better. Moving up at 155 I'm gonna be able to maintain that same pace for three rounds now."
Another positive influence in Nelson's life is his belief that he has matured as an individual.
With the opening of the Muskoka Martial Arts Academy with partner Mike Fox he is now a business owner, he is the proud father of two young boys, Corbin (7) and Griffin (2), and in the week or so since we spoke for this interview he became engaged to his now fiancée, Claudia.
He says that helping young people to grow helps him as well.
"All these different kinds of responsibilities not only from from coaching kids at my gym, but to raising my own two kids, trying to teach them some of the martial arts values and just some just good life skills and values…I'm kind of revisiting them myself and trying to improve myself as a person as a human.
Nelson feels that this personal maturity has invariably contributed to his maturing as a fighter as well.
"Even over the last two years since my last fight in the UFC I feel like I've grown leaps and bounds not only my technique and my skill, but just as a person and maturity level and competence level. I think going into this fight not only are we gonna see a better showcasing of my skills that I had two years ago, but new skill sets and we're gonna see a more calm, composed, and overall better athlete this time."
Like a select handful of other fighters in Southern Ontario Nelson is a beneficiary of an informal alliance of world class gyms within about an hour's radius who all train together and push each other.
His main gym is House of Champions in Stoney Creek, and under the tutelage of Kru Alin Halmagean Nelson believes that his striking has gotten to the point that he can match anyone in the UFC that he might face.
"I've been with Kru Alin for like 10 or 11 years now, and since then my strength has grown leaps and bounds." He said, adding that the proof of this is evidenced in the cage.
"Now I'm catching people, I'm hurting them, I'm knocking people out, I'm finishing people to the body. My striking has become elite level now."
Nelson gets the majority of his training at HoC during the week, and during the weekends he heads home and trains at his own gym. Then there are also regular forays to other gyms such as Niagara Top Team in St. Catharines, where the wrestling-heavy syllabus has contributed to Nelson having a confidence that he may not have had previously.
"I feel so well rounded right now. I think I can compete with anyone in the UFC, and I've got the knowledge in me that I can take the fight wherever it needs to go and be confident."
While it is true that confidence in oneself is a key pillar in achieving victory, true confidence can only arrive if you have a realistic understanding of your opponent. Nelson knows that he knows Herbert well.
"The more you know about your enemy, the more you're going to understand." Nelson said intently.
"When you understand something you can predict things. I see him wanting to strike and play around and be long…that's what he's good at. I think that's his best case scenario. If he wants to try and wrestle with me perfect even better for me and if he wants to clinch with me even better. I'm happy to do that. His best case scenario is to keep it standing. But his best case scenario is still going to end badly for him."
Nelson even has confidence in how the fight will end.
"He's coming forward, aggressively starting to throw hard shots, but all he's doing is walking into my power shots. I'm going to clip them with something big, probably an overhand right or a left hook and then we'll see kind of the same situation that happened when he fought Ilia Topuria or Francisco Trinaldo…his lights are going to go out for a good three or four minutes."
I think it's fair to say that every fighter of Kyle Nelson's calibre has several different goals pertaining to fighting. They all want to win their fight, obviously, but after that fight is finished their goals can vary. Many don't look past that night, or possibly they look only to whatever comes next. For some, however, they're also thinking long term.
Nelson falls into that category.
"A lot of the reason I got into mixed martial arts and UFC is to kind of build a legacy not only for myself, but for my family."
"Money is going to come and go. Setting an example for kids are growing up in a small town like Huntsville up in Muskoka, where sometimes it seems like we're kind of a little bit isolated and it doesn't seem as plausible to chase your dreams. I want to set a good example for other kids. You can chase your dreams coming from a small town. You can be successful. The only thing you need is hard work and dedication and you can do anything, whether that's becoming a Doctor or becoming a professional athlete."
Kyle Nelson will be cornered by Kru Alin and UFC Welterweight Mike Malott.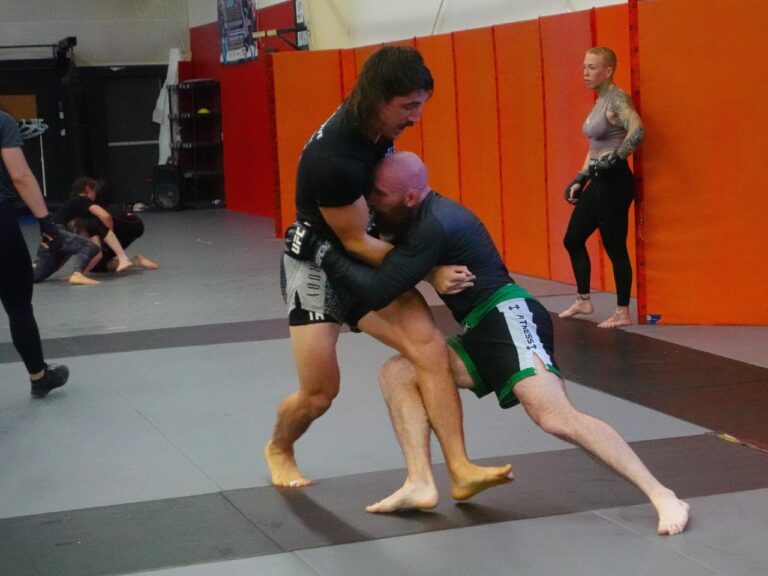 Wrestling practise with Bellator Middleweight Aaron Jeffery. Photo by Andy Cotterill