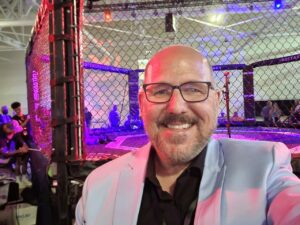 I started covering the sport of Mixed Martial Arts (MMA) in 2006 for Sherdog.com, where I wrote the weekly news column devoted to the Canadian MMA scene. "MM-eh! News and Notes from Canada" was for many years the most complete and comprehensive place to go for fans, fighters, and industry insiders alike to keep up to date on upcoming events and fighter news.
Writing for Sherdog and then later for ESPN.com gave me the privilege to attend dozens of live events, to gain trusting relationships with virtually every high level MMA athlete and trainer in the country, and to provide breaking fight news to fans in Canada and around the world.
After a few years I decided to set out on my own, and in 2012 MM-eh.ca was born.
MM-eh operated until mid-2014 when it was hacked (Read story here) and was unable to be recovered. By that point we were the undisputed MMA news site in Canada with at minimum 10,000 unique monthly visitors, so as you can imagine this was a devastating event.
For my entire writing career I had also been a full time member of the Royal Canadian Navy, and researching and writing throughout my many deployments was exhausting.
At that point, demoralized and tired, I decide to take a break.
Fast forward to 2022. Retired from the military and training BJJ at Niagara Top Team in St. Catharines, Ontario, I started writing a thing or two for their Blog, and rediscovered the joy of giving words a purpose.
Those blog posts were a catalyst, and soon after MM-eh.ca was reborn.
If you're a previous follower I'm very thankful that you've found your way back to us, and if you're new to MM-eh then I say welcome, I think you'll like it here.
Andy Cotterill, CD
Email: [email protected]
Instagram MMehAndy
Twitter MMehAndy
Facebook MMehCanada