By Andy Cotterill
The Ultimate Fighting Championship has had a great relationship with Canada.
Since 2008 they have held a whopping 31 events across 8 provinces and 11 cities.
UFC 58 was an entire fight card with just Canadians fighting Americans.
Oh, and Canada has produced 2 UFC Champions.
But the last UFC in Canada was UFC Fight Night: Cowboy vs. Gaethje in Vancouver in 2019.
Covid threw a wrench into so many things, and even though the UFC fought through the pandemic unlike so many other sports, it has taken some time for them to fully expand to the same scope that they held previously.
Many have wondered when the time would come that we see them in Canada again, and I'm predicting that the time is now.
The push to bring them back to Canada was revitalized on February 25th when St. Catharines' Jasmine Jasudavicius made a plea after her impressive win over Gabriella Fernandes at UFC Fight Night: Muniz vs Allen on February 25th.
"We need a UFC in Canada." She said passionately.
"We have amazing Canadian fans, we are so in love with the sport of MMA and it will blow up there."
The same weekend UFC President Dana White said, "We're working on getting back to Canada ASAP. This is going to be the year. The whole Covid thing. It's going to take us a few years and hit every place that we need to hit but the great part of it is all these places are chomping at the bit to get a UFC event back there and Canada is, and always has been an important market to us so we're working on it."
Everything I have written so far is fact. It happened. It was said.
Now here comes the part where deduction comes into place.
Yesterday UFC fighter Miranda Maverick announced that she had signed a contract to fight Jasudavicius, who trains out of Niagara Top Team, at UFC 289 on June 10th.
For those of you who don't follow the minutiae of UFC marketing and media, let me assure you that they are absolutely phenomenal at what they do. From press releases, to media events, to promotional material, to their website, they are on-the-ball.
Up until the Maverick announcement there had been no official announcement by the UFC about 289. Not the date, nor location, nor the participating fighters.
Even excellent MMA websites like Tapology, Sherdog and Mixedmartialarts.com had nothing.
Then today several places, including MM-eh, revealed that a new bout had been added to the UFC 289 card, Quebec's Marc-André Barriault will take on Eryk Anders.
So that's 2 fights so far for UFC 289, both including Canadian fighters. But that isn't overly unusual, multiple Canadians fight on the same card all of the time.
That being said MM-eh has reached out across Canada to it's MMA network and discovered that there are at least 3 other Canadian fighters that will be on the Canada card.
Our sources spoke under confidentiality so we can't say more at this time, but you can take a look at MM-eh's list of Canadian UFC fighters HERE and speculate on who you think they might be.
Finally, as mentioned earlier the UFC team are exceptionally good at their jobs, so it's unusual that on their page for upcoming events it skips from UFC 288 to UFC 290 with no mention of 289.
The main reason for this I suspect is that they have not yet solidified a venue and are holding off announcing until then.
So, what city will it be?
The UFC has held previous events in Halifax, Moncton, Quebec City, Montreal, Ottawa, Toronto, Winnipeg, Saskatoon, Calgary, Edmonton, and Vancouver.
Insiders have told MM-eh that they've been hearing that both Vancouver and Toronto are in the mix with Vancouver being the frontrunner.
But that's just rumours as of now.
But the final piece of the proverbial puzzle may have been placed just a few hours ago when Barriault's opponent Eryk Anders made the following post on Instagram.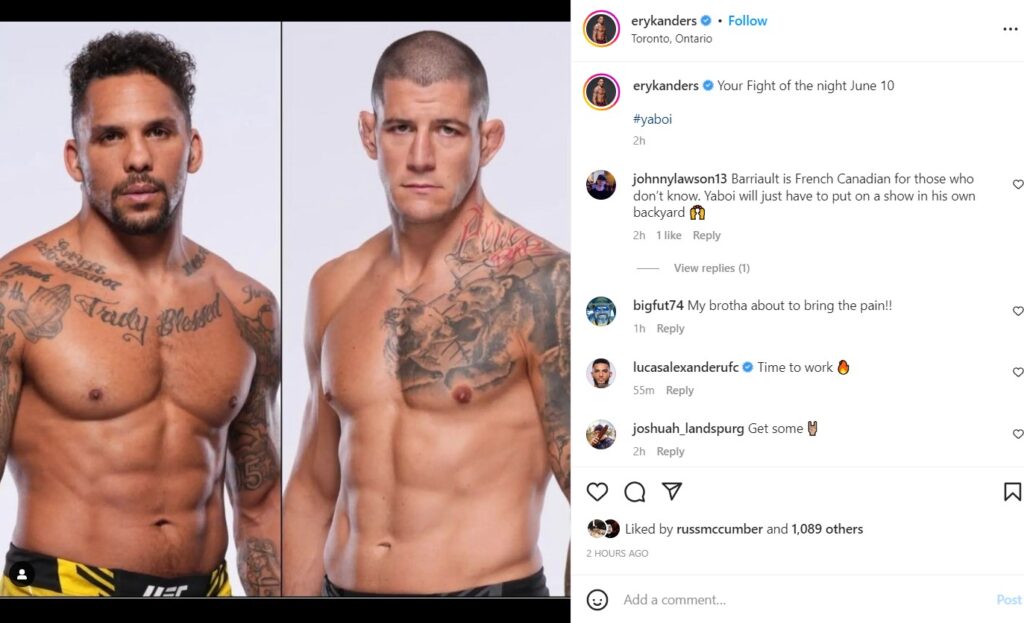 So that's where we stand now.
Nothing concrete, but the puzzle pieces seem like they fit.
So will it be Vancouver, or Toronto, or elsewhere?
Comment below and tell us what you think.